Dazzle at Garba Nights: 9 Navratri Outfit Ideas to Rock the Dance Floor
Dazzle at Garba Nights: 9 Navratri Outfit Ideas to Rock the Dance Floor
"A very happy Navratri to all of you!"
It is said to believe that many devotees of Goddess Durga (Maa Durga) adorn ethnic wear for women according to the nine colors of Navratri, each of them having significant meanings. Each day represents something different and brings prosperity after following the said beliefs.
Nine Navratri Dresses For Women
The auspicious first day of Navratri is marked as a great beginning of prosperous days! It is famously known as Pratipada, where devotees pray to Goddess Shailaputri (Daughter of Mountains). The color Orange is chosen for the day symbolizing the grace and strength similar to the Goddess' pose, riding the bull! Orange is the color of the rising sun, depicting a new start to a new day/journey.
Mbz chose the perfect Orange Exclusive Saree for women as your first Navratri Outfits 2023! Wear the orange saree with gold-plated Jewellery or pearl necklace set with bangles, and get a trendy blouse stitched for the final outfit. Complete the look with a sleek bun with hair accessories and no footwear for the pooja!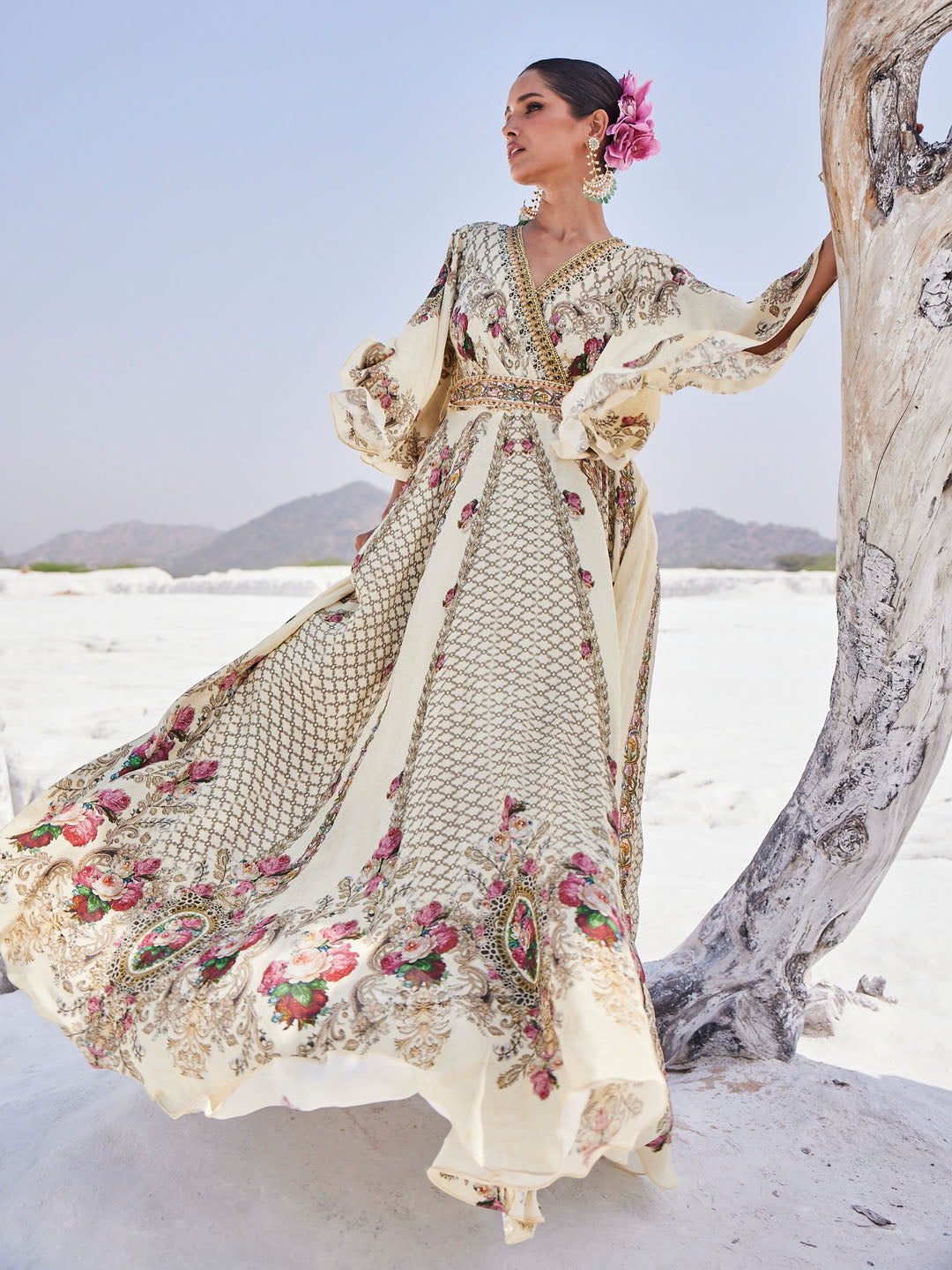 The second day of Navratri is devoted to Goddess Brahmacharini, the goddess of wisdom and Knowledge. This day is called Dwitiya, the epitome of spiritual awakening and peace/tranquility. Her white attire signifies commitment towards the life she chose while carrying beads in her hand! White significantly symbolizes purity and pace, as well as intellectual enlightenment for some. The devotees seek her blessings for a series of wise and clear decisions on strong matters of life.
Meena Bazaar Collection 2023 presents you with our best-selling White Kaftan Gown! How about pairing it up with a Gold Jewellery Set and a pair of hair accessories? Buy Garba Dress Online from Meena Bazaar and start preparing to celebrate this Navratri 2023 with enthusiastic dances! Our Kaftan Gown is an ideal choice for Navratri Dress Online for women, amp up your wardrobe for Garba Nights.
The third day of Navratri, also known as Tritiya, is devoted to Goddess Chandraghanta! The day is dedicated to the Red Color, symbolizing passion, bravery, and love. The goddess can be seen riding on a tiger depicting beauty and courage, all the devotees pray to her for unwavering bravery, confidence, and a strong mindset! Red also signifies the intensity of being awake/alive and warmness in the heart.
Meena Bazaar Suits online has an amazing collection of Stitched suits with dupatta. For the 3rd day of Navratri, we are suggesting our red lightweight suit with beautiful digital print! Flaunt your suit in Navratri pooja or Garba dresses on the special Garba Night while dancing! Style it with a pair of oxidized jewellery for Boho vibes and a lightweight suit perfect for Garba dance.
The fourth day of Navratri is devoted to Goddess Kushmanda, she is considered as the creator of the Universe! She is often seen riding a lion - depicting strength, fierceness, fearlessness, and grace. Her symbolized color is regal blue, with darker hues for showing bravery and freedom as a sky! By adorning the color blue, the devotees are praying for creativity, fierceness, strength, and abundance. The 4th day is famously known as Chaturthi by the followers.
What is more perfect for the Garba night than a blue lightweight Gharara Suit? Beautiful and easy to dance in! Opt for Meena Bazaar party wear salwar suits for ladies or Sharara suits for festive occasions.
Panchami or the fifth day of Navratri is wholeheartedly devoted to the Goddess Skandmata, she is the mother of Lord Kartikeya and is often seated on a lion with her son! The Goddess is the epitome of Motherhood, as every mother has compassion and kindness towards people. To honor her vibrant characteristic, her followers adorn yellow, the cheerful color of joy. Yellow depicts optimism, positivity, happiness, and compassion- and that is exactly what people pray for wearing yellow.
Mbz presents you with the perfect Garba dress for women- a vibrant yellow printed stitched suit with dupatta and palazzo. Lightweight, festive, and stylish- an ideal choice for Dandiya Night in Navratri. Pair it up with gold-plated Jewellery and Punjabi juttis, and do not forget to carry an embroidered meena bazaar handbag potli for essentials.
The sixth day of Navratri is known as Shasthi, devoted to the Goddess Katyayani. She is the epitome of victory and success, riding on a lion fiercely- she gracefully radiated power and courage. Her devotees adorn a refreshing green that is close to nature and success. Green symbolizes nature, balance, and growth in life- it reflects the fertility and well-being of mother nature. By adorning green ethnic outfits, people seek blessings for well-being, bravery, victory, and growth in life.
Isn't a floor-length comfortable Gown dress quintessential for the exciting Garba Night? Show up in our printed crepe gown and dazzle your way through the Garba dance. Complete the look with a pair of Dandiya and easy-to-wear footwear for women.
Saptami, also known as the seventh day of Navratri, is solely dedicated to Goddess Kalratri and contrastingly, she reflects destruction and liberation. In her figurines, she can often be seen riding a donkey, depicting a healthy and fearless nature. Her color is a mysterious gray- just how gray brings a neutral balance between white and black, that is how the goddess brings balance to our lives and removes the obstacles, enough to give us strength to fight back.
Keeping in mind the auspicious color, we present you with an enchanting and subtle gray embroidered Kurta Set as a Navratri Outfit. Go for a light oxidized Jhumkas bracelet and complete the look with a sleek braided bun.
The eighth day of Navratri is known as Ashtami, dedicated to Goddess Mahagauri. The epitome of beauty and calm, she is often seen as riding a bull for having a composed nature. To honor goddess Mahagauri, the devotees adorn luxe and opulent purple hues that look enchanting. Purple is often connected to terms like luxury, nobility, elegance, and glory. The followers seek blessing from her, praying for richness, luxe, pursuit of happiness, and glory in life!
Check out the beautiful Purple Gharara suit set that is the ultimate choice for Navratri Pooja and Garba Night. Amp up your Navratri collection for women with trendy ethnic wear from Mbz online shopping.
Navami, also known as the ninth day and last day of Navratri, is devoted to Goddess Siddhidatri- the altruist of supernatural powers of Siddhis, epitome of perfection and content. The devotees choose an elegant peacock green that signifies the richness, and opulence of the natural world, and majestic hue.
A royal or peacock green unstitched suit is an absolute choice for this Dandiya Night and Garba Night- dance your heart out with our lightweight embroidered unstitched suit with a dupatta.